Thursday, 21 July 2005
A campingflight to LOWLANDS paradise 2005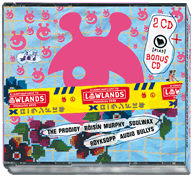 Wie vast een voorproefje wil van het aankomende Lowlands festval heeft vanaf 22 juli geluk. Vanaf dat moment ligt namelijk de cd "A campingflight to Lowlands 2005" in de schappen. Ook dit jaar is de prijs weer beneden de zeven euro. En zeg nou zelf, waar vind je nog een album bestaande uit drie cd's voor die prijs? De cd blinkt uit van veelzijdigheid. Er staan maar liefst 45 nummers op van onbekend talent en reeds bekende toppers. Waan je in de roots van reggae met Gentleman. Ga chillen met royksopp. Rap mee met Braintje. Voel de technovibes van The hacker.
Op de cd's staan nummers van recente albums van onder andere The Prodigy, Audio Bullys, Soulwax, Röyksopp, Brainpower, Michael Mayer en Roni Size. Opvallend is dat we dit jaar weer een nummer van het album "Any minute now" van Soulwax terugvinden op de cd's. Wat we uiteraard helemaal niet erg vinden.
Kortom een subliem album met voor ieder wat wils en door de lage prijs voor ieder betaalbaar!

Tracklist:
Lowlands CD 01
01.Röyksopp-Only This Moment
02.The Magic Numbers-I See You, You See Me
03.Ane Brun-My Lover Will Go
04.Zita Swoon-De Quoi A Besoin l'Amour
05.Gentleman-Superior
06.Audio Bullys-EQ'Ing
07.Patrick Wolf-The Libertine
08.Dropkick Murphy's-Sunshine Highway
09.The Polyphonic Spree-Section 12 (Hold Me Now)
10.Juliette & the Licks-American Boy Vol. 2
11.Brainpower-Pro
12.LCD Soundsystem-Daft Punk Is Playing At My House
13.The Hacker-Radiation
14.Open Hand-Tough Guy
Lowlands CD 02
01.Nick cave & The Bad Seeds-Nature Boy
02.Heather Nova-Overturned
03.Athlete-Wires
04.Matt Sweeney & Bonnie 'Price' Billy-What Are You?
05.Doves-Some Cities
06.The Rakes-Retreat
07.The Kills-The Good Ones
08.Vive La Fête-Hot Shot
09.The Dresden Dolls-Girl Anachronism
10.Beatsteaks-Hand In Hand
11.Bad Religion-Let Them Eat War
12.Nightwish-Nemo
13.Roni Size-Time (with Darrison)
14.Michael Mayer-Neue Luthersche Fraktur

Lowlands PIAS Bonus CD
01.De Jeugd van Tegenwoordig-Watskeburt?!
02.Vitalic-Wooo
03.Editors-Munich
04.Morcheeba-Lighten Up
05.Soulwax-NY Excuse
06.Pete Philly & Perquisite-Insomnia
07.Millionaire-We Don't Live There Anymore
08.Róisín Murphy-Sow Into You
09.Kubus-Buitenwesten (met Duvel)
10.Voicst-Whatever You Want From Life
11.AMP Fiddler-Superficial
12.The Prodigy-Girls
13.Le Peuple de L'herbe-Mission (with JC 001)
14.Viva Voce-Alive With Pleasure
15.Infadels-Jagger 67
16.Fat Freddy's Drop-Flashback
17.Born-Still Here
In store: 22 juli 2005
Prijs: 6,99

Meer info over het festival is te vinden op www.lowlands.nl
Tekst: Olga, Dancereporter Team Dancereports